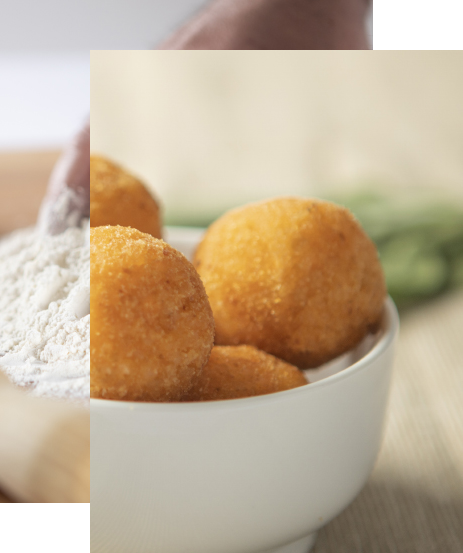 Company
The company "Il Primo Piatto" is an artisan production of frozen Apulian typical rotisserie. Panzerotti, rustici, stuffed pizzas, potato croquettes, arancini: discovering the delights of "Il Primo Piatto" is like taking a journey of taste to the heart of regional street food.
The business was founded in 1982 from the initiative of Pietro Pontone, a skilled chef in constant search for excellence in traditional local flavours.  Pietro carries out a small revolution: he laid the foundations for an innovative reality that distributes frozen delicatessen throughout Italy. The project aimed at adding good, natural and typical gastronomic products to the circuit of the cold.
Years went by and the company grew. The challenge became more and more difficult, but the results were soon to come. The passion is handed down from father to son, from Pietro to Alberto. For Alberto, in fact, had the task of finding a perfect synergy between past and future. He mixed tradition with innovation, expanded the laboratory and implemented new production techniques.
In the gastronomic laboratory of Castellana Grotte, today, the excellence of modernity meets the all-time quality. Genuineness is "Il Primo Piatto"'s mission, cannot be diminished to empty slogans. Alberto and his staff choose only certified Italian raw materials, undertake to minimise the use of ultra-processed foods and never renounce to the craftsmanship in the creation of every single product.
With its catalogue divided into numerous references, "Il Primo Piatto" can claim an all-Apulian success for over 30 years and makes itself an ambassador of taste to satisfy even the most demanding customers, from restaurants to pubs, from bars to large-scale distribution.
Every day, as his father Pietro began, Alberto mixes passion and competence to build perfect combinations of quality, flavours and tradition.